Sale of Artists' Print to Benefit PIE!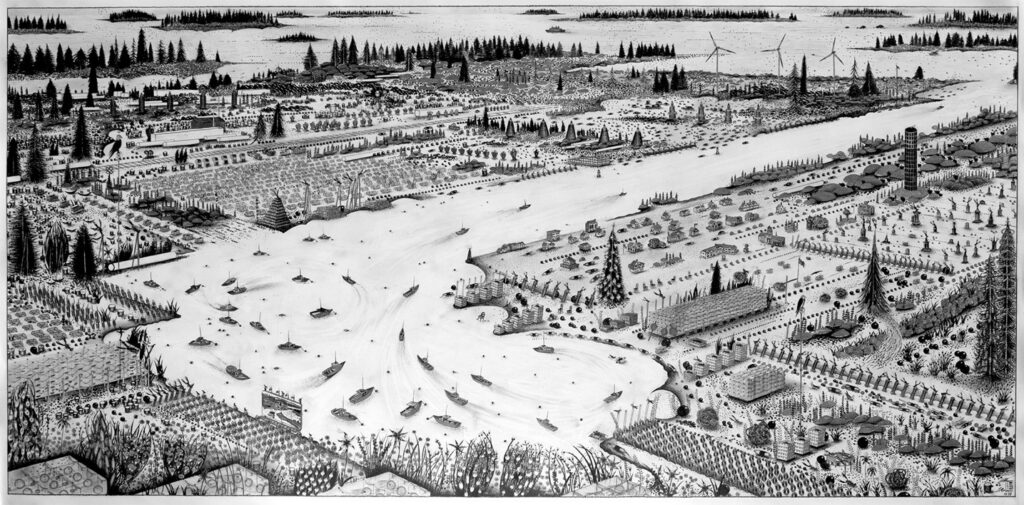 VINALHAVEN is a charming, fantastical bird's eye panorama of Carver's Harbor and surrounding area. The drawing is full of familiar details and island references, but also contains a wealth of invented imagery. It is the result of a collaboration between the artist duo, Hipkiss, and long-time seasonal resident and PIE board member, Andy Breslau, who shared with them his love of Vinalhaven, and his desire to support PIE's mission of providing arts and educational opportunities for the community.
About the ARTISTS:
Hipkiss is the pseudonym of a collaborative artist duo: Alpha & Chris Mason. They have an international following, having shown extensively in Europe and the US. Their work is often described as "visionary". For information about Hipkiss: http://www.hipkissart.com/index.html
About the PRINTS: Hi-resolution digital printing on Hahnemühle Photorag Bright White archival paper. Limited edition of 50, each signed and numbered, with the Hipkiss stamp. Print size is 21.7 x 42.5 in. Paper size is 23 x 44 in.
Price: $250
Come see for yourself, hear the story, and purchase a print to support PIE!
At the PIE Flea Market booth, and TBA at informal pop-up events during August
To place your order, contact Alice: 863-4948; PartnersInIslandEducation [at] gmail [dot] com
All proceeds go to benefit educational opportunities for the community of Vinalhaven through Partners in Island Education (PIE)