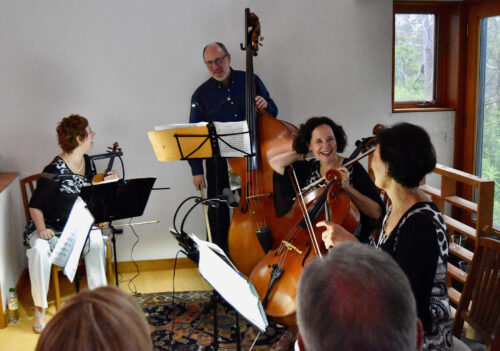 As waves crashed against the shore, providing their own rhythmic background, and a near-full moon rose over the sea, the Cassatt String Quartet once again wowed a full house of music lovers with an irrepressible evening of fiddle and dance music—all to benefit PIE.
Susan Godfrey's Coombs Neck home is unusually well set up to accommodate chamber music, with a wrap-around balcony, seating for 70, great acoustics, and ocean views (and sounds). The Cassatt Quartet took full advantage of it with their eclectic program of a half dozen pieces that featured the versatile violin of Muneko Otani with the added treat of guest artist Peter Weisner on bass.
The evening kicked off with the perfect choice–Aaron Copland's rousing "Hoe Down"–and ranged from other toe-tapping pieces like "Fiddle Faddle" and "Foggy Mountain Breakdown" to a romantic Piazzola tango and a piece written especially for the CSQ. One of the highlights was surely the sultry "Lingerie Ad" by the Russian composer Liova (and, yes, it really was music from a French lingerie ad!).
The event was part of the 17th Seal Bay Festival, produced by Vinalhaven resident and composer, Daniel Godfrey. Three years ago, Ms. Otani approached PIE and said the Quartet had fallen in love with Vinalhaven and wanted to give something back to the community. She offered to do a benefit performance. It has since become both a major fundraiser for PIE and a much-anticipated event on Vinalhaven—always playing to full houses (and this year, standing room only!).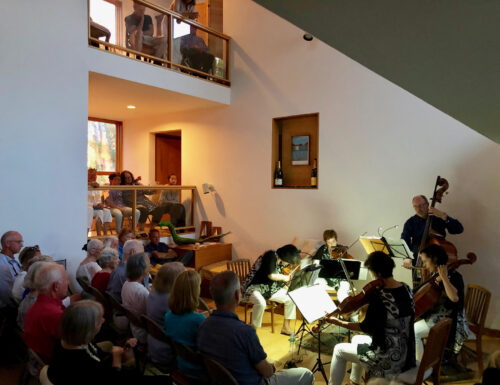 We are deeply grateful to the Cassatt String Quartet (and Mr. Weisner), to our friends who baked delicious desserts for the overflow crowd, to Susan Godfrey for lending her home, and to everyone who attended and gave generously, enabling PIE to keep doing the work it does in the schools, in the community, and through its college scholarship program.
Amy MacDonald