The incredibly talented and entertaining Cassatt String Quartet performed a live concert to benefit PIE on Sunday, August 15th at the Union Church. The concert was public, by donation at the door – a departure from previous years, when the concert took place in a private home and was by invitation only. It was exciting to see many new faces in the audience.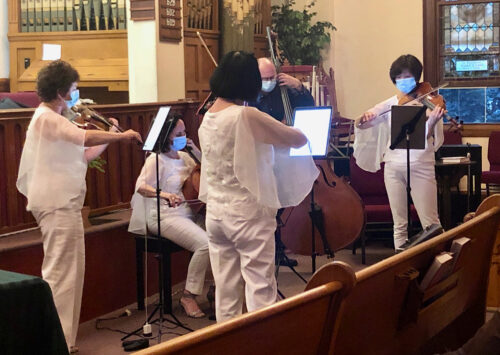 The program was lively and wide-ranging, including selections of bluegrass, jazz, classical Mozart, and two contemporary pieces by resident composers of the Seal Bay Festival.
After the concert, delicious desserts were served in the Vestry, where audience members had a chance to chat with the musicians. It was a festive occasion – one of the few live public concerts this summer – and everyone was very appreciative.
This was the Quartet's fourth concert to benefit PIE. The Seal Bay Festival, led by VH resident and composer Dan Godfrey, has for many years sought to give back to the Vinalhaven community, and particularly the school. This annual concert is one way for them to do this. PIE is very fortunate to have such a marvelous organization supporting our mission.