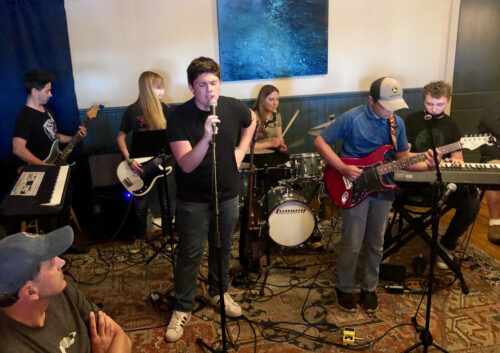 The Vinalhaven School's Spring Concert was so popular that Music Teacher Bill Trevaskis agreed to have an encore performance of some of the highlights at Skål for a fundraiser for PIE.
On June 24th, a raucous and enthusiastic crowd ate, drank and rocked out to the sounds of the seventh and eighth grade rock band. The students, ably assisted by Bill on different instruments, brought down the house with their renditions of "You Don't Own Me," "I'm Still Standing" and a dozen other numbers. Many thanks to the students for their inspirational playing; to Bill Trevaskis for leading the charge; to Kris Davidson for letting us have Skål for the night; to the PIE board and staff for baking goodies for attendees; and to all who made donations at the door.
You raised $700! Rock on!