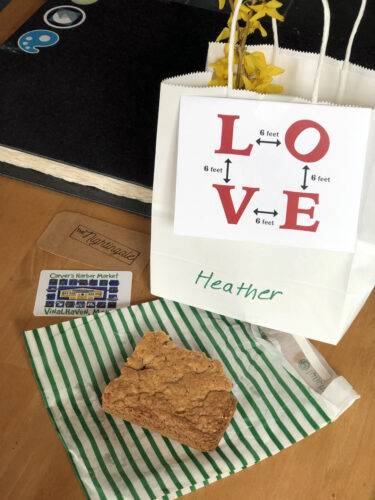 "That was the NICEST teacher present I've EVER received!"
The arrival of the Covid-19 pandemic ended school as we know it on March 16. But the speed with which the school immediately transitioned to remote learning was really impressive. Teachers and staff went above and beyond to find ways to serve Vinalhaven students, providing regular deliveries of meals and learning materials, and finding fun and creative ways to keep kids engaged in learning online.
But teachers and students thrive on the simple physicality of school environments: rugs for circle time, re-configurable furniture, materials for art or math, basketball courts, class pets to care for, snacks and meals shared with friends and close physical interaction everywhere you look. A screen is a very poor stand-in and on-line learning can be deadening for students and exhausting for teachers.  
By the end of April, PIE board members felt that VHS teachers and staff deserved some tangible form of appreciation for their persistence in keeping every child both well-fed and well-educated. So, we came up with a twist on traditional May baskets. We visited every staff member's home (using safe distancing) to leave a cheery white bag with daffodils and forsythia peeking out, and containing a delicious home-made treat, gift cards to two island businesses, and a thank you note. Recipients were surprised and delighted. There were no hugs, of course, but we saw huge smiles and a few glistening eyes.
The gift cards to local businesses were made possible with unused bunds from the 2019-20 PIE School Enrichment Program, which was cut short by the need to close the school in March. After struggling to find ways to support our school and community, PIE was very pleased to be able to support both in one small gesture. Although we neglected to take any photos of the project, art teacher Heather White sent us a photo of her bag along with her thanks. Thanks, Heather!
– Kelly Richards